Top 7 Ride Sharing Apps in the USA
During our childhood days, our parents advised us not to travel in cabs with strangers. But as of now, everything changed from scratch. Most of us are travelling with third parties. This is known to be carpooling where we share our ride with strangers. It has also become a common one and one of the most prominent businesses globally. By the year 2025, this business will earn a profit of about two hundred and eighteen billion dollars.
For the past few years, ride sharing apps have been developed successfully. This gigantic concept is accepted globally and its main goal is to eradicate traffic overcrowding, minimizes trips, and diminishes emission leading to a greener environment. Most transportation industries started to follow this concept. The private firms are having a tie-up with the ridesharing to provide office-goers an efficient ride. Contemporary trends & techniques have been influenced by these firms to produce trustworthy services. 
A detailed insight
In this present era, most people use multiple apps, social media sites & GPS to interconnect drivers to office goers who are closer to that concerned location. By using ridesharing apps one need not process cash payments. There is a 100% possibility to track the driver's location and acquire notifications when the driver gets closer to the rider's location. If you need to contact the driver, then you can dial the driver's number immediately. The beneficial points of ridesharing are more popular when compared to the traditional taxi system. This ridesharing does not eradicate other procedures of buses, trains, and other transportation systems. It is just a finite complement for these units.
Day by day, our entire world is changing & techies are exploring an optimal solution to the contradiction office-goers face when interacting with costlier cab fares & shortages where governments eradicate contention by minimizing cab licenses. Are you new to the ride-hailing service and competing with gigantic on demand app development companies? It might not be feasible, but small contenders have made an impact in terms of mobile app development fields, & they started concentrating on concerned markets and adapting their top-notch features to definite clients. In case you are competing with leading services like Uber, you have to research more details. In this blog, we explained about the top 5 ride sharing apps in the USA. 
Advantages of ride sharing apps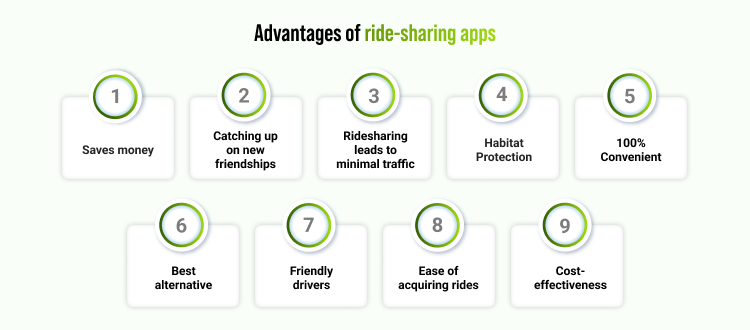 The ride-sharing system helps people to save money. The carpooling system is one of the trendier ways to travel from source to destination. On the subject of time & money, we have discussed a list of benefits of ride-sharing. In the present era, most companies prefer ride-sharing methodologies.
Saves money
A recent statistical report exclaims that Uber & Lyft has achieved a net profit of nearly billion dollars and four billion dollars respectively. The benefits are not only accumulated for the ridesharing system. An individual can save on the expense of parking systems and petroleum gas. It automatically means that the entire cost of ridesharing is minimal compared to driving alone. If you are in the urge to save money, then the only best option is to use Uber & Lyft for travelling from one place to another. 
Catching up on new friendships
On the way to your college or office, you catch up with new friends while sharing the ride. Carpooling is one of the best ways to initiate with the best start. When travelling for a minimum distance or longer distance, there are chances to meet new people who have similar interests.
Ride sharing leads to minimal traffic
A recent report exclaims that the overall cost of traffic is subject to one hundred and sixty billion dollars. In places like New York, the energy and amount play a vital role in the field of economy. If you are stuck in traffic, it creates more tension. That entire day will be hectic too. Ridesharing aids in the elimination of traffic issues. If there are minimal vehicles on the road, then there will be less traffic and also the pollution level will be less.
Habitat Protection
When two to four people share a taxi, there will be few vehicles on the road. This automatically leads to a green environment. On the other side of the flip, there will be minimal emission of greenhouse gases.
100% Convenient
Instead of driving alone, you can share the ride with other people. The ridesharing allows for 100% convenience. You can also enjoy the ride to the core.
Best alternative
The modernized trends & techniques have processed alternative transportation accessible to office goers. It directly means that people can travel to any place within their comfort zone. Some people wish to buy a car, but they do not have the funds. Others take public transport for travelling from one place to another. These kinds of people can use ridesharing without any second thoughts.
Friendly drivers
The drivers of ridesharing are friendly and at the end of the trip, the travellers can give reviews & ratings. The drivers will be more cautious as they do not prefer negative reviews. With the aid of real-time tracking features, people can be safe and build healthy relationships with drivers.
Ease of acquiring rides
If you want to catch a taxi, first you have to hire a taxi at the taxi stand or book a taxi through a call. But you have to wait. It may take long hours too. At the same time, others may wait for the taxis. You have to wait for your turn. This may cause stress and tension. With the ridesharing system, you have to point a ride closer to you. Once you have spotted the location, you have to provide the destination details. Finally, the driver will reach your place as soon as possible.
Cost-effectiveness
Ridesharing is one of the cost-effective systems and is inexpensive when compared to the taxi system. You can share the ride along and cost with the third parties.
Top 7 ride sharing apps USA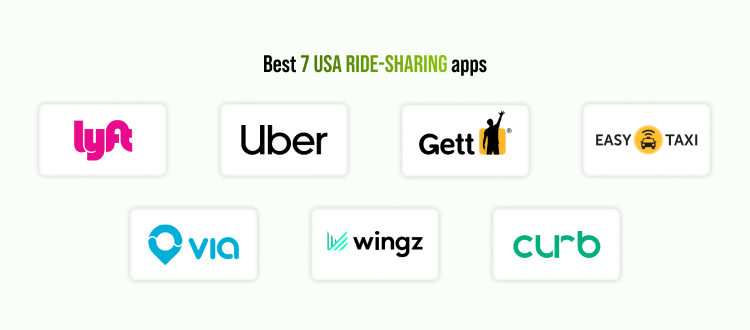 Lyft
The Lyft cab system is available at an affordable cost. It has been operated in multiple cities across the northside of America. This gigantic business provides an economical and user-friendly experience. Lyft is completely different from Uber. In both Uber & Lyft, riders & drivers can feel a seamless experience. Shortly, they initiated an amazing culture. Most Lyft passengers chat with the drivers and jump into the front seat. The Uber riders hop into the back seat where the conversation is not common. The approach of the Lyft system is completely different when compared to Uber. The Lyft system possesses a loyal passenger base, holding a top-notch value in the US market. 
An exclusive app is allotted for drivers that possess driver-enabled features. The capability to upgrade the present ride as the last one for that concerned day, so drivers won't receive requests. An added advantage is that there is no compulsion to accept the ride. There are more chances to acquire tips from the passengers. The rider-enabled features are discussed in detail in the upcoming points. Discounts are provided for the shared saved trips. A separate option is available for quick requests & pickups. The driver's background will be checked thoroughly to assure 100% safety. The Lyft sign popularly known to be Lyft Amp helps both passengers and drivers during the night times.
Uber
The Uber app is a prominent one and it is well-known for its list of services. Its headquarters is located in San Francisco along with the leading technological companies. To date, Uber has earned revenue of one hundred and ten million global users. It is the on-demand ride-hailing firm that has brought shining colors to the present transportation sector. Most people refer to this typical model popularly known to be Uberization. This business model characterizes different service models with the aid of smartphone technology. 
A few firms offer multiple services like food delivery and shopping directly from Uber. Uber is continuing its creative trends by providing UberPool. It allows people to acquire inexpensive rides by sharing them with other travellers. This system allows the matched passengers to fetch a similar route. The UberPool structure is a cost-saving methodology, allowing passengers to minimize their carbon footprint.
Discussing the driver-enabled features, the traveller rating system spots the tedious rides. In case the platform is not essential, it is better to remove it. The hearing-impaired drivers need not worry about anything. Special accommodations are provided for them. Depending on the number of rides, the bonus will be given. The UberPool methodology initiates more earnings; hence Uber drivers opt for the UberPool. Considering the rider-enabled features, the rides are scheduled in advance. The friends can split and share the ride amount. A list of drop-off points is available for the passengers. Both Android and iOS ratings are above four.
Gett
The Gett cab system was founded in the year 2010. It is the leading ride-sharing taxi app in the USA. It mainly targets corporate company official trips. Gett has acquired a reputation due to its reasonable rate. As of now, Gett has operated nearly one hundred and thirty cities across different countries like the UK, Russia & USA, and more. The Lyft app is available on both platforms Android app development & iOS. In New York, Gett is planning for the option of carpooling. In the carpooling system, the passengers can share the ride and save their expenses too. It is one of the best ways to eradicate traffic and save travelling time too. Through this typical feature, there are more chances of adding new users. To date, the app has earned nearly eight hundred million dollars. 
Easy
This Easy taxi industry was founded in the year 2011. It is a contemporary design integrated with the alluring UI/UX. With the aid of an enhanced GPS algorithm, the fare amount can be calculated easily. It possesses more than twenty million users across thirty countries. The most striking feature of this gigantic cab app is choosing the drivers. Most riders prefer top-notch experiences & better fame to turn into a partner of this service. Customers can easily book a cab online, initiate pathway lists; saves travel cost, and monitor the motion of the cab on the map. The User experience is the most essential factor of an on-demand ride booking app. This app suits both the platforms of Android & iOS app development. 
Via
This app is the most preferred one among people in the USA. People can travel with minimal fare in their comfort zone. It was introduced in the year 2012. This service has been provided in multiple locations like New York, London, Chicago & Berlin, and more. At the same time, this app actively works in multiple countries like Canada, Australia, the USA, and more.
Wingz
In the initial stage, this app was known as Tickengo which was developed in the year 2011. Wingz speaks top-notch compatibility on both platforms of Android and iOS. You can book the ride in advance. The cab is also available for heavy bags, suitcases, and luggage. The travellers can choose the drivers according to their wishes.
Curb
The Curb is one of the most prominent ride-sharing apps. It is inexpensive when compared to traditional taxi systems. To date, it has been operated in a list of cities like Boston, New York, Miami, and more. This gigantic app provides multiple facilities like an Air conditioner, melody music & wheelchair for old age people. At the end of the journey, travellers can process the payment through different forms like spot cash, or credit card integrated with the app. The riders can pre-book the ride too.

Final abstract!!
From this blog, you may have understood that a huge number of ride-sharing apps are available globally. By keeping in mind its unique features, you can go ahead with the apt one. We have to thank all these apps for providing a convenient ride. If you have an idea to start an on-demand ride-hailing company, you can contact us for the development of top-notch & quality apps. We are the leading mobile app development company possessing experienced techies. The options that are available can be utilised by those who want to launch taxi businesses. Uber Clone is one of the greatest scalable & reliable alternatives to launch the taxi booking business packed with eye-catching features & functions.